Herod's Forum Hotel Eilat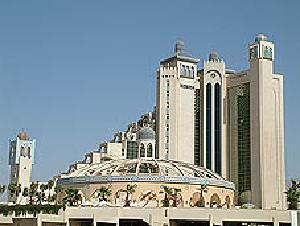 Number of Room: 104
Address: North Beach, Eilat, Israel
Phone: +972-8-6380000 , Fax: +972-8-6380010

Herod's Forum Hotel Eilat Info
Herod's Hotel and Convention Center in Eilat is located adjacent to Herod's Palace, and a bridge links the two. Herod's Forum has seven convention halls that may be used to host any number of guests – from intimate affairs to large events. The largest hall in Herod's Forum can host up to 1,200 individuals. All of the halls are equipped with advanced technological equipment, including video systems, projection systems, ISDN technology, LAN technology adapted to laptop computers and satellite communication.
The hotel staff will find the appropriate hall for you and will decorate and design it according to your needs and specifications, whether you need to host a party, exhibit, event with many participants, family event, conference, workshop, etc.
Herod's Forum guests may enjoy all of the attractions and entertainment options available at the adjacent Herod's Palace.
Hotel Rooms:
Herod's Forum has 104 luxurious rooms with stunning views of the Edom Mountains and the lagoon. All of the rooms come with satellite television, radio, telephone with voicemail, a coffee maker, mini bar, electric kettle and safety deposit box.
Additional Facilities and Services:
Swimming Pool
Luxurious Lobby
Restaurant
Laundry and Dry Cleaning Service
Room Service 24-hours a day
Location:
Herod's Forum is located in Eilat's hotel district, along the city's northern shore.
Gallery