Melony Village Hotel Eilat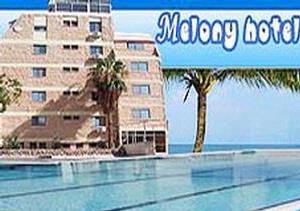 Number of Room: 42
Address: Los Angels st. 6, Eilat, Israel
Phone: +972-57-9376060 , Fax: +972-8-6317651

Melony Village Hotel Eilat Info
Melony Village Hotel invites you to vacation in Eilat at the most affordable prices in town! Melony Village offers a warm atmosphere, spacious rooms, a swimming pool and other services at unbeatable prices – all just a ten minute walk from the boardwalk and beach. Melony Village Hotel Eilat has 42 spacious rooms, separate pools for adults and toddlers, with lounge chairs and parasols around the pool, as well as a snack bar offering a range of inexpensive meat dishes for lunch. The hotel's dining room serves a buffet breakfast, and you'll be able to enjoy an array of beverages and light dishes in the hotel lobby.
Melony Village guests can enjoy discounts at various attractions in the city, including all terrain vehicle tours, camel tours, water sports, diving, Kings City (a Biblical theme park), Dolphin Reef, and many others.
Hotel Rooms:
Melony Village is comprised of 42 spacious air-conditioned rooms. Each room can accommodate up to six people. All of the rooms feature king size beds, LCD television with cable, full bathroom, kitchenette with a refrigerator, electric kettle and a dining area.
The hotel also features a luxury suite that overlooks the stunning Red Sea (room must be reserved in advance). Each room offers wireless internet.
Additional Facilities and Services:
Pools (for adults and toddlers)
Dining Room
Lobby Bar
Snack Bar (alongside the pool, serving meat dishes)
Ping Pong Table
Parking
Mini Market (open 24 hours a day) and synagogues located adjacent to the hotel
Location:
Los Angeles Street, in central Eilat – just a ten minute walk from the boardwalk and beach.
Gallery