Club Hotel Eilat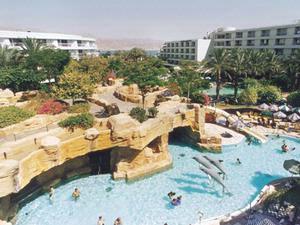 Number of Room: 700
Address: HaBaz st., Eilat, Israel
Phone: +972-8-6361666 , Fax: +972-8-6325188

Club Hotel Eilat Info
Club Hotel Eilat's design was inspired by ships and the sea, and it is the largest suite hotel in the Middle East. The hotel is located in the heart of Eilat's action, adjacent to the tourist centers, entertainment venues, boardwalk and Mul HaYam Mall.
Club Hotel sprawls over 40 dunams that feature a tropical garden, an excellent water park and waterfalls that flow across 12 dunams! The water park features seven swimming pools for adults, children and toddlers, jacuzzis, lovely waterfalls, games for children and other surprises.
Club Hotel Eilat's entertainment troupe puts on amazing performances and offers a range of activities and attractions for children of all ages, including a pirate bay, puppet theater, discotheque for children, and computer and simulation games – with 100 highly advanced play stations and simulators!
Hotel Rooms:
Club Hotel has 700 spacious, comfortable rooms that can accommodate up to five people. Each room features a bedroom and living room, kitchenette and dining area, full bathroom, cable television and balcony.
Additional Facilities and Services:
Exotic water park
Pools
Jacuzzi
Spacious Lobby
Restaurants
Entertainment Troupe
Activities for Children
Hotel guests must be over the age of 21 (unless accompanied by an adult – the hotel does not host minors)
Location:
Club Hotel Eilat is located in the center of the city's entertainment and shopping district, adjacent to the Mul HaYam mall and boardwalk.
Gallery