Royal Park Hotel Eilat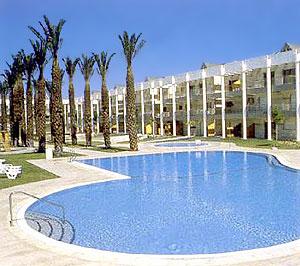 Number of Room: 40
Address: Kampen 1, Eilat 8800, Israel
Phone: +972-8-6337010 , Fax: +972-8-6337005

Royal Park Hotel Eilat Info
Royal Park Hotel is the perfect setting for a family vacation in Eilat. The hotel has 40 lovely, spacious suites, swimming pools, lots of grassy areas and a snack bar adjacent to the pool that offers various food and beverage options. Royal Park Hotel offers a pleasant, relaxing vacation at an affordable price. The hotel has no food services or special activities. The hotel is located on Eilat's northern shore, adjacent to the city's entertainment venues, boardwalk and beach.
Hotel Rooms:
Royal Park has 40 rooms, including studios that can accommodate two people and spacious suites that can accommodate up to four people. Each unit is air-conditioned and has a kitchenette with a refrigerator, microwave, electric kettle, kitchen utensils, dining area, television, telephone, full bathroom and safety deposit box.
Additional Facilities and Services:
Swimming Pools (shaded pool for toddlers)
The hotel does not provide towels
Grassy Areas
Snack Bar
Kiosk
Playground
Gym
Cable and Internet (at an added fee)
Location:
Royal Park is located on Eilat's northern shore, within walking distance of the city's entertainment venues and tourist attractions.