Magic Palace Hotel Eilat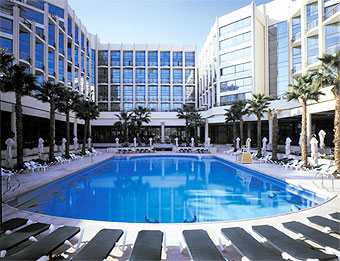 Number of Room: 322
Address: North Beach, Eilat 88000, Israel
Phone: +972-8-6369999 , Fax: +972-8-6369998

Magic Palace Hotel Eilat Info
Magic Palace Hotel, from the Fattal chain, offers a dream vacation for children and the perfect vacation for parents. Magic Palace is a ten star hotel – five stars for children and five stars for adults.
The hotel offers a unique experience for children: Personal service, lots of benefits and a magical atmosphere. When the kids are having fun, the adults can relax and enjoy a range of indulgences.
Kids at the Magic Palace enjoy an array of activities all day long at the Kids Club and in different parts of the hotel. In the evenings there are performances as well as song and dance nights.
The hotel offers a range of facilities and services: Magic Palace around the clock – the hotel's main dining room serves breakfast and brunch until 12:30 P.M. and dinner from 6:30 P.M. to 10:30 P.M.! The pleasant lobby overlooks the lagoon, while the hotel's pool is huge and is surrounded by beach chairs, lounge chairs and parasols. There is a snack bar alongside the pool that serves a range of light dishes and soft drinks. Hotel guests can enjoy the spa club (at an added fee) and the Kids Club is open until midnight!
Hotel Rooms:
The hotel has three types of spacious rooms and suites. Some of the rooms have balconies overlooking the lagoon. Each room is air-conditioned and has a spacious bathroom, telephone, cable television, mini bar and coffee set.
Standard Room – Can accommodate up to a couple and two children.
Panorama Room – Can accommodate up to a couple and three children. The room is particularly spacious and has a large panoramic window overlooking the lagoon.
Suite – The elegant suite can accommodate up to a couple and three children. The suite has a balcony with a large jacuzzi.
Rooms for individuals with special needs may be reserved in advance.
Additional Facilities and Services:
Spacious lobby, screen movies after hours
Entertainment Lounge, hosts an array of performances and plays
Balcony Bar
Internet Room
Synagogue
Game Room for Kids – open 24 hours a day
Parking (based on availability)
Location:
Magic Palace is located in the hotel district, along the lagoon, just a few minutes from the beach and boardwalk.
Gallery