U Suites Eilat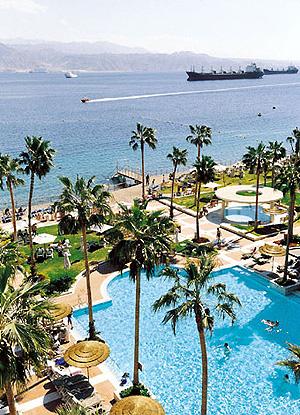 Number of Room: 245
Address: North Beach, Eilat 88000, Israel
Phone: +972-8-6383333 , Fax: +972-8-6887708

U Suites Eilat Info
U Suites Eilat, a boutique hotel from the Fattal chain, offers an Eilat vacation in a magical atmosphere, opposite the stunning views of the Red Sea and Edom Mountains. U Suites Eilat is located adjacent to the boardwalk and a short walk from the Mul HaYam Mall. The hotel has a private pier and offers easy access to the beach. The hotel was designed in accordance with U Suites hotels international standards, and combines refined classical European design with maximal comfort.
Hotel guests can enjoy a spacious lobby with a balcony that overlooks the sea, new furniture and a dining room that grants an amazing culinary experience as chefs prepare the food in front of the guests. The hotel's new Kids Club offers an array of activities for children, overseen by a staff of professional kindergarten teachers. The hotel's elegant business lounge has all of the technological innovations necessary for conducting seminars, workshops and lectures.
Hotel Rooms:
U Suites has 245 elegant suites with a classical European design.
Deluxe Suite: Can accommodate up to a couple with two children. The suite has a bedroom, living room and balcony that overlooks the Red Sea.
Royal Meridien Suite: Can accommodate four adults or a couple with three children. The suite has two separate bedrooms, a living room and a balcony overlooking the Red Sea.
Rooms with an adjoining door or with handicap accessibility may be reserved in advance.
Additional Facilities and Services:
Business Lounge: Guests must be at least 18 to enter the business lounge, which is open every day from 11:00 A.M. to 10:00 P.M. The lounge serves soft drinks and alcoholic beverages, coffee and various pastries. The business lounge offers internet access and has a number of newspapers available for guests. Entrance to the lounge is free for guests staying in the Royal Meridien Suite. Hotel guests who are not eligible for entry to the business lounge may access the lounge at an added fee.
Kids Club offers a range of activities and games for children, overseen by a professional kindergarten teacher.
Parking (based on availability)
Wireless Internet Access (at an added fee)
Kosher Certification by the Eilat Rabbinate
Location:
The hotel is located on the Red Sea, on the southern end of the boardwalk, within walking distance of Mul HaYam Mall.