Club Med – Coral Beach Eilat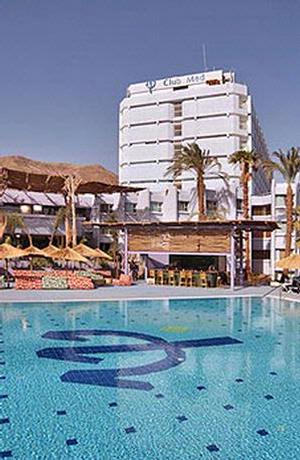 Number of Room: 287
Address: Coral Beach, Eilat, Israel
Phone: +972-8-6350000 , Fax: +972-8-6350055

Club Med – Coral Beach Eilat Info
The Fattal Chain's Club Med Coral Beach in Eilat offers a particularly enjoyable vacation. The hotel operates in accordance with international Club Med standards and provides a unique experience, with full board. There are 50 European members of staff (GO) that entertain guests with a range of activities and amazing meals.
The hotel lobby is designed with clear glass walls, a bar and lounge areas. The hotel cost is all inclusive. The hotel's dining room serves three kosher, very rich meals a day. The snack bar adjacent to the pool serves a wide range of soft drinks, wines and beers. The hotel has a spacious pool and gourmet restaurant (not kosher) on the shore.
As per tradition, Club Med Coral Beach offers guests many sports activities, including miniature golf, volleyball, tennis, basketball, beach volleyball, archery (with a coach) and various water activities including snorkeling, wind surfing and sailing.
Club Med Coral Beach has a Kids Club with a professional GO staff that offers activities for all ages:
Petit Club – for children aged 2-4 (at an additional cost)
Mini Club – for children aged 4-14 (at no additional cost)
Hotel Rooms:
The hotel has 281 new rooms, with lovely parquet floors. Each room is air-conditioned and has modern furniture, a flat screen television, telephone, mini bar and safety deposit box.
Club Room – Can accommodate up to a couple with two children. The room is comprised of two levels – the bottom has a double bed and the top has two futon couches.
Club Family – Can accommodate up to six people. The family room has a bedroom with a double bed and television, and another room has two separate single beds, two futon couches and a television, as well as a full bathroom.
Club Connection Room – Large, spacious rooms that can accommodate up to eight people. Each pair of rooms has an adjoining door. The rooms are comprised of a club room with a double bed and two futon couches, as well as another room with two single beds and two futon couches.
Rooms with handicap accessibility may be reserved in advance.
Additional Facilities and Services:
Sports Facilities
Diving packages at the diving club may be purchased separately
Parking (based on availability)
Synagogue (no elevator on Saturday)
Wireless Internet on the Upper Floors (at an added cost)
Kosher Certification by the Eilat Rabbinate
Glatt Kosher Meals, must be ordered at least three days earlier (at an additional cost)
Location:
Almog Beach, on Eilat's southern shore.
Gallery