Reef Hotel Eilat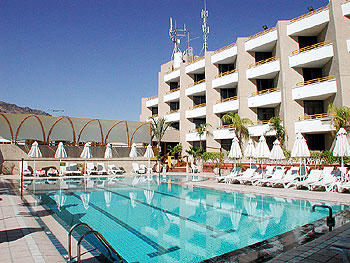 Number of Room: 79
Address: Coral Beach, Eilat, Israel
Phone: +972-8-6364444 , Fax: +972-8-6364488

Reef Hotel Eilat Info
Reef Hotel is located along Eilat's Almog Beach, one of the city's most beautiful beaches, adjacent to the nature reserve, the coral reef and the city's stunningly beautiful diving spots. Reef Hotel offers a calm, peaceful vacation on the beach, in a relaxed, nostalgic atmosphere just a few steps away from the water.
Hotel guests can enjoy the pool, a dining room that serves rich, varied buffet breakfasts and an intimate lobby with lounge areas and internet spots, at no additional charge.
Reef Hotel guests can enjoy the health club and spa, which includes a sauna, jacuzzi and gym with treadmills. The beach adjacent to the hotel, one of the most beautiful beaches on the Red Sea Gulf, offers complimentary parasols, beach chairs and lounge chairs. The hotel restaurant serves an array of dishes and beverages throughout the day.
Reef Hotel offers a relaxing, romantic vacation in Eilat and is the perfect choice for individuals who love to wind surf, paraglide and dive, with an array of attractions just a few steps away.
Hotel Rooms:
The hotel has 79 spacious rooms with balconies that overlook the pool, beach or the beautiful mountains. Each room has a double bed, sleeper couch, flat screen television with a DVD player (movies may be purchased at the reception desk), shower, telephone, hair dryer, safety deposit box, refrigerator and coffee corner.
The hotel has four suites with a pampering jacuzzi, personal stereo and large shaded balcony. The hotel has two additional suites without a jacuzzi that have a large balcony and a comfortable beach chair.
Additional Facilities and Services:
Reef Hotel offers a complimentary shuttle service for hotel guests to Eilat's entertainment venues and back
Parking (at an added fee)
An additional NIS 200 per room must be paid if guests leave Saturday between noon and 6:00 P.M.
Location:
Eilat's southern shore – Almog Beach, adjacent to the beach.
Gallery