Astral Seaside Hotel Eilat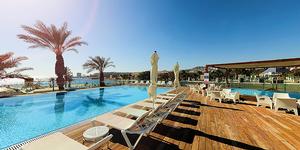 Number of Room: 96
Address: North Beach, Eilat, Israel
Phone: +972-8-6367444 , Fax: +972-8-6388889

Astral Seaside Hotel Eilat Info
The renovated Astral Seaside hotel is located in the best spot on Eilat's northern shore, right next to the boardwalk and beach. The hotel has 96 rooms and three luxury suites that overlook the sea. The hotel restaurant is spacious and well designed, serving breakfast and dinner. Astral Seaside Hotel has a large, new, beautiful swimming pool that overlooks the Red Sea. The pool is surrounded by beach chairs and parasols, and there a toddler pool nearby. There is a snack bar adjacent to the pool, open in season, and there are various activities for the entire family.
Hotel Rooms:
All of the hotel's rooms are spacious and beautifully designed, equipped with everything you might need for a magical vacation in Eilat.
Each room is air-conditioned and has a full bathroom, flat screen television, radio, telephone, mini bar, vanity set, hair dryer and safety deposit box.
Standard Room: Can accommodate up to three adults or a couple with two children.
Family Room: Two separate bedrooms that can accommodate up to four adults or a couple with three children.
Suite: The Astral Seaside has three pampering, luxurious suites. Each suite has a bedroom, two flat screen televisions and a spacious furnished balcony with a view of the Red Sea (one suite does not have a balcony).
Additional Facilities and Services:
Adult and Toddler Pools
Spacious Dining Room
Lobby Bar
Snack Bar
Kids Club (in season)
Lecture Hall
Synagogue
Parking
Ironing Area
Luggage Storage Facility
Location:
The hotel is located along Eilat's northern shore, close to the beach.
Gallery