Vista Eilat Hotel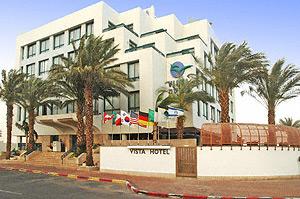 Number of Room: 84
Address: Kamen 17, North Beach, Eilat, Israel
Phone: +972-8-6303030 , Fax: +972-8-6303040

Vista Eilat Hotel Info
The renovated Vista Eilat Hotel is located on the city's northern shore, between two beautiful blue lagoons. Vista Hotel offers a vacation in a young, pampering atmosphere that is just a short walk from Eilat's entertainment venues, restaurants, cafes and beach.
The Vista Hotel was renovated and upgraded: The hotel's lobby was renovated and expanded, and now features a spacious balcony with a view and various lounge areas, and there is a snack bar adjacent to the pool that serves a range of beverages, snacks and meals. All of the rooms were upgraded and are equipped with new carpets, bedspreads, curtains, etc.
The hotel's staff is professional and helpful and will answer all of your questions and requests, giving you an unforgettable stay with a range of activities and a personal touch.
Hotel Rooms:
The hotel has 84 rooms, family rooms and suites overlooking the stunning view of the lagoon, pool, Edom Mountains and the city of Eilat.
All of the rooms have central air conditioning, a full bathroom, satellite television, telephone, safety deposit box, hair dryer, mini bar and a kettle.
Garden rooms with a balcony or rooms with adjoining doors may be reserved in advance. The hotel also has rooms with that are handicap accessibile.
Additional Facilities and Services:
Swimming Pools (for adults, heated in the winter, and for children)
Snack Bar
Kids Club (in season)
Gym
Location:
Vista Hotel is located in the hotel district on Eilat's northern shore, just a few minutes walk from the beach, boardwalk, entertainment venues and attractions in the city.
Gallery