Dan Hotel Eilat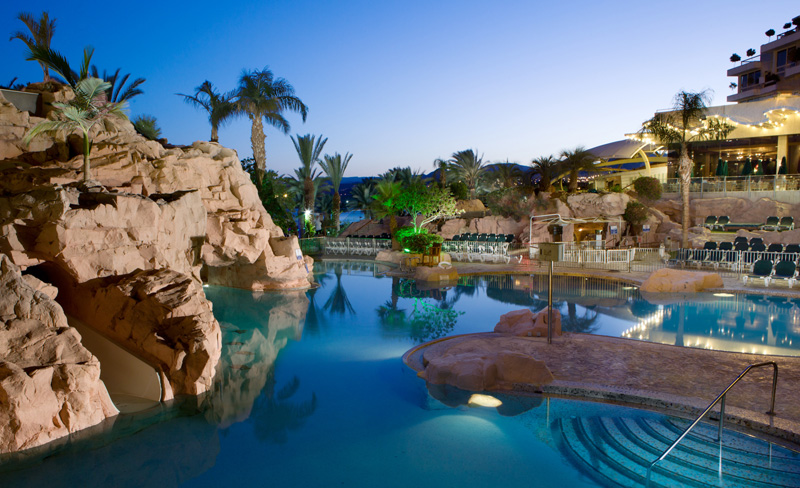 Number of Room: 374
Address: North Beach, Eilat, Israel
Phone: +972-8-6362222 , Fax: +972-8-6362333

Dan Hotel Eilat Info
Offering a range of water sport activities and in the heart of the city's entertainment and shopping district, Dan Hotel invites you to partake in a luxurious and particularly enjoyable vacation on Eilat's northern shore.
Dan Hotel has two large, beautiful swimming pools, as well as a pool with a water slide. The beach adjacent to the hotel has beach chairs, parasols, as well as palm trees providing shade. The hotel's health club and gym has sophisticated equipment and the spa features a Finnish sauna, Turkish hamam, huge jacuzzi (at no additional cost) and 18 rooms for body and soul treatments.
The hotel's entertainment staff is full of surprises and activities for all ages. Stunning productions are staged each night for adults in the nightclub, while the DanyLand Kids Club offers an array of creative activities, games, computer and internet games for kids and youths.
Hotel Rooms:
Dan Hotel features 375 rooms, 48 suites and a very exclusive presidential suite. Each room has a safety deposit box, hair dryer, wireless internet access and cable television.
Standard Room: Can accommodate up to three people. Each room has a balcony with a gorgeous view of the sea.
Deluxe Room: The deluxe rooms are particularly spacious and can accommodate up to three people. Each room has a balcony with a view of the pool and the sea.
Executive Room: Rooms that are elegantly designed and can accommodate up to three individuals. Executive room guests may enjoy complimentary entrance to the King David Executive Lounge, on the 14th floor.
Terrace Room: A large, pampering room that features a jacuzzi in the bathroom and a balcony with a sun bed and a view of the sea.
Family Room: A family suite with two separate rooms. The parents room is spacious and includes a bedroom with a lounge area and a large balcony overlooking the pool. The children's room has two twin beds and a television.
Club Suite: Large, luxurious suite that features a bedroom with a lounge area and a large furnished balcony and a jacuzzi.
Deluxe Suite: A huge suite with a lounge area and a separate, spacious bedroom. The bathroom has a jacuzzi and the balcony is furnished and also boasts an outdoor jacuzzi.
Presidential Suite: Located on the 14th floor, the presidential suite is 200 square meters! This beautiful, exquisite suite includes a beautifully designed bedroom, work area, particularly large full bathroom with a jacuzzi, spacious living room with couches and chairs and a large, furnished balcony that not only offers stunning views of the Gulf of Eilat, but has a jacuzzi as well.
Additional Facilities and Services:
Convention Center, with halls for various meetings, including conferences, workshops, meetings and family events
King David Lounge (must be at least 18 to enter)
Laundry and Dry Cleaning Service
Room Service 24 hours a day
Service Room with Ironing Board on Every Floor
Babysitting Service
Location:
The Dan Hotel is located on Eilat's northern shore, adjacent to diving centers and the city's entertainment district.
Gallery