Dan Panorama Hotel Eilat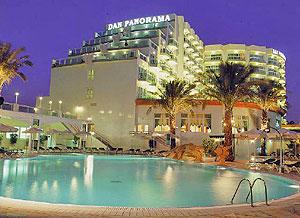 Number of Room: 277
Address: North Beach, Eilat, Israel
Phone: +972-8-6389999 , Fax: +972-8-6389973

Dan Panorama Hotel Eilat Info
Eilat's Dan Panorama Hotel overlooks the lagoon and is just a few minutes walk from the city's northern shore, boardwalk, restaurant and entertainment venues. At the hotel you'll be be able to enjoy a vacation filled with relaxation and pleasures. The hotel has an array of sport and leisure activities: A beautiful pool surrounded by beach chairs, a health and sports club with a gym, jacuzzi and sauna (at an added cost). The hotel's restaurants offer rich culinary offerings: Dairy meals in the marina lounge, the pool bar offers a range of meat dishes and the espresso bar offers different types of beverages and desserts. The DanyClub Kids Club offers various activities for children, including creative workshops, computer games, movie screenings and many other fun things for all ages. You'll be able to host family functions at the Dan Panorama, as well as workshops, seminars and meetings in the conference and banquet halls, which can host up to 600 people. Events can also be held alongside the pool (in season).
Hotel Rooms:
Dan Panorama Eilat has 277 spacious rooms and luxury suites with the highest quality furnishings for a pleasant, pampering vacation.
Standard Room: Pleasant rooms with a modern design that can accommodate a couple and two children. Each standard room has a private balcony with a view of the park.
Superior Room: Pleasant, spacious room that can accommodate a couple with one child. The room offers a stunning view of the lagoon and the Edom Mountains.
Executive Room: Spacious, elegant rooms with lovely furnishings that can accommodate up to three people. Each executive room has a large balcony, mini bar and hair dryer. Executive room guests (over the age of 18) can enjoy complimentary entry to the VIP Lounge.
Terrace Room: Luxury rooms that can accommodate up to two guests. Each terrace room has a large balcony. Terrace room guests (over the age of 18) enjoy complimentary entry to the Carmel Executive Lounge.
Additional Facilities and Services:
Marina Lounge, which overlooks the marina and offers a range of dairy meals, beverages and desserts.
Pool Snack Bar
Espresso Bar
Dan Burger – hamburger restaurant for kids
Heated Pool in the Winter
Health Club and Gym
Private Beach
Laundry and Dry Cleaning Service
Room Service 24 hours a day
Activities and tours may be reserved at the front desk
Drugstore
Beauty Salon
Cancellation Policy: Cancellations made after the reservation has been booked and up to 14 days prior to the scheduled stay will be charged NIS 100 per room. Cancellations made less than 14 days prior to the stay will be charged the full amount of the reservation for each room.
Location:
The Dan Panorama Hotel is located in Eilat's hotel district, along the city's northern shore, overlooking the lagoon and within walking distance of the beach and the city's entertainment venues.
Gallery