AFI Patio Eilat Hotel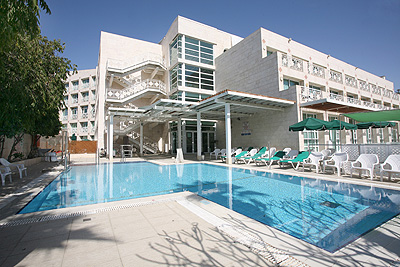 Number of Room: 115
Address: Shopping District center, Shfifon Alley 3, Eilat, Israel
Phone: +972-8-6364364

AFI Patio Eilat Hotel Info
AFI Patio Eilat Hotel is the ideal spot for a family vacation in a warm environment with a personal touch. The hotel is in the heart of the action, adjacent to the city's entertainment spots, restaurants, beaches, boardwalk and Mul HaYam Mall.
The hotel boasts 115 lovely rooms, each of which has a balcony that overlooks the pool or offers stunning views of the area.
AFI Hotel has a large outdoor pool as well as a kids pool, surrounded by beach chairs and parasols.
The hotel lobby is beautifully designed and has a great deal of vegetation, granting it a pleasant, intimate vibe. You'll be able to enjoy delicious breakfasts and dinners at the hotel restaurant, with a wide selection of dishes and beverages.
The hotel staff will be able to answer any questions or assist guests in any way. We invite you to come to Eilat for a romantic getaway or a family vacation, to enjoy a range of entertainment options, delicious food, beautifully designed rooms and excellent service.
Hotel Rooms:
The hotel has 115 beautifully designed air-conditioned rooms that feature a full bathroom, hair dryer, satellite television, radio, telephone with voice mail, mini bar, safety deposit box and a kettle.
The Standard Rooms can accommodate up to four people.
The Studio Rooms are large and can accommodate up to five people.
Rooms with handicap accessibility may be reserved in advance.
Additional Facilities and Services:
Internet Access (at an added fee)
Kids Club (on weekends, run by a professional staff)
Ironing Room
Babysitting Service
Room Service from 12:00 P.M.-11:00 P.M.
Underground Parking for Hotel Guests
Location:
The hotel is located a 15 minute walk from the beach and opposite the Mul HaYam Mall.
Gallery