Isrotel Royal Beach Hotel Eilat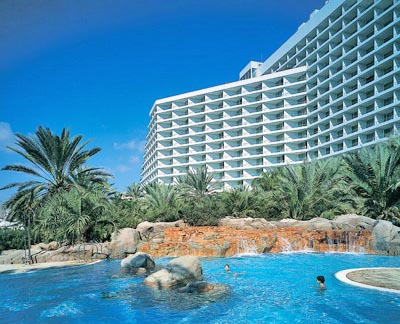 Number of Room: 363
Address: Beach Front, North Beach, Eilat, Israel
Phone: +972-8-6368888 , Fax: +972-8-6368811

Isrotel Royal Beach Hotel Eilat Info
Isrotel Royal Beach Hotel is the most lavish and luxurious hotel in Eilat. The hotel is elegantly designed, is adorned with art and exudes a relaxing, sophisticated vibe for the perfect Eilat vacation. The Royal Beach Hotel opened in 1994 and has since maintained its very high standards, providing the ultimate hospitality. Royal Beach Hotel has 16 floors and five elevators; it is located on the Red Sea, in the heart of Eilat's restaurant and entertainment district, near the bustling boardwalk. Royal Beach guests can enjoy the hotel's private beach, with chairs and parasols. The hotel maintains a calm, peaceful atmosphere and does not host any noisy summer performances. The varied activities offered over the summer include water aerobic activities and a live musical performance by a singer in the hotel lobby, in a refined atmosphere.
The hotel's dining room serves buffet meals prepared by the finest chefs.
Hotel Rooms:
Royal Beach Eilat Hotel was designed such that the hotel's 363 rooms offer a stunning view of the Red Sea. All of the rooms are air-conditioned and feature a large, comfortable double bed, lounge area, couch, television, mini bar, safety deposit box, telephone, kettle and balcony.
Rooms with an adjoining door may be reserved (at an added cost of NIS 50-80 per night).
Bella Vista Standard Room: A spacious room featuring a balcony with a stunning view. The standard rooms can accommodate up to three people.
Royal Room: These large, pampering rooms, which have a full bathroom with a large jacuzzi and a balcony with a gorgeous view, can accommodate up to three people. Royal Room guests (over the age of 18) enjoy complimentary entry to the business lounge and breakfast in the hotel's VIP restaurant.
Family Rooms: The spacious rooms can accommodate a couple and two children and include a sleeping area for children and a balcony.
Additional Facilities and Services:
Pool
Restaurants
Children's Activities
Synagogue
Gym
Gift Shop
Internet (added fee)
Parking (based on availability)
Kosher Certification by the Eilat Rabbinate
Location:
Eilat's northern shore hotel district.
Gallery